Motivational Speaker Shari Alyse Overcomes Negative Body Image to Inspire Thousands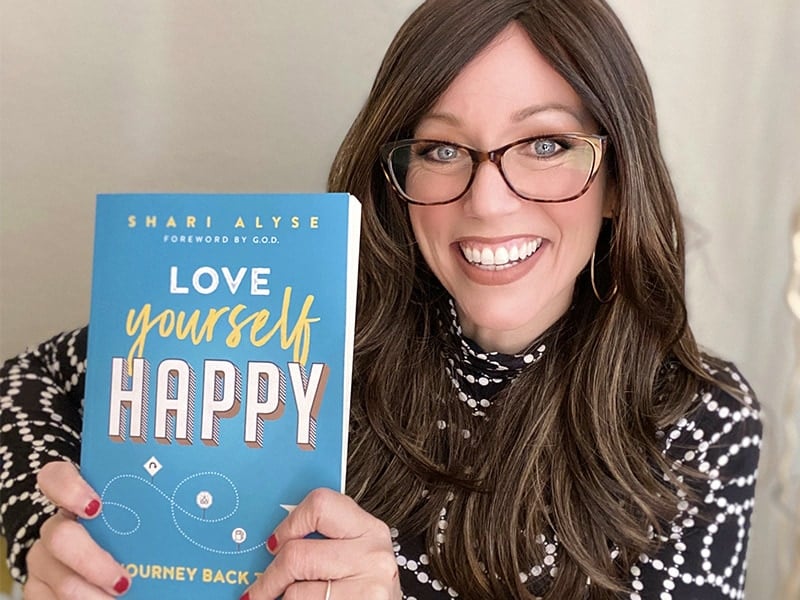 Known as "America's Joy Magnet," Shari Alyse has experience with relationships, loss, sexual abuse, and self-exploration. Coupled with her entrepreneurial development and communication practices – these experiences have led her to a career in guiding others through their own transformative process.
Today, her passion and work as an inspirational speaker and the best-selling author of "Love Yourself Happy" is to guide listeners and readers to a life of true inner joy.
Can you tell us about what started your career as a speaker?
I was pursuing an acting career for many years. During this time, I also began my personal healing journey. The more and more I learned about myself, consequently, the more I healed. I was so inspired by all that I was discovering, learning and unlearning, that I kept sharing all of it with everyone that would listen.
While I was waiting tables one day, one of my customers that I was sharing with told me how inspiring I was and invited me to be a speaker at a Maybelline event for at-risk youth. That talk was transformational for me and it was the first time I felt really at 'home' with myself. Over time, I realized that I actually liked being on stage as me rather than playing a character so I took my theater background and love for connection with audiences and combined that with my motivational and inspirational messages and now have spoken at colleges and women's empowerment conferences to a mostly-male attended sports conference.
Do you feel that the way you view your own body has any impact on the way you develop your speeches? Can you give us an example?
Yes, absolutely. My body image and self-acceptance are a big part of who I am and I am at my most truthful when I'm standing on stage. I gift people the opportunity to truly see me because I believe we all can see parts of ourselves in one another. Whenever I am having a dialogue with my audience, I share the deepest parts of me and that includes my prior struggle with my body and the journey to loving who I am exactly as I am.
I've been known to take a wig off every now and again. It's amazing what happens when you bare your soul on stage. You can literally hear the exhales and see the shoulders drop.
As a businesswoman, did you ever hesitate or pause when deciding to reveal that you wear a wig?
I did hold back for years, but it wasn't due to business. It was due to my lack of self-acceptance around it. I hid it for years until I realized that it was holding me back in all areas of my life because I was too worried about what others would think. This held me back from truly being present on stage, in my relationships, and with my own self.
Do you feel your personal image in the public eye has any impact on your work as a speaker – Do you prefer to be vulnerable or more curated in what you share of yourself or let it all out?
My entire speaking career is based on vulnerability. I don't feel truly connected to myself if I'm not being honest and that affects the way I show up on the stage and in my life. I feel we are doing people a disservice by not peeling back the layers and sharing deep truths. All of us are carrying something and if we aren't willing to put it down, we will be weighed down by it forever.
What is your best advice for the women out there reading this who dream of finding confidence?
Keep showing up. My confidence grew every single time I showed up for something that I wanted. The more I showed up for something, the easier it became. It's about action.
Stop trying to be perfect. Once I realized that we are never going to be perfect and no matter how much I planned and practiced and tried to make things go a certain way, I'm human. I'm imperfect. We all are. Once I finally came to terms with this, I started showing up differently. I gave myself permission to show up imperfectly. When I did that, I grew more confident. Not just confident in what it was that I was doing, but more confident in my imperfections. Once I became confident that I could show up imperfectly, I learned I could show up for everything!
What can we expect from you next?
I'm currently working on putting together a speaking tour with other phenomenal speakers (and humans) who have also overcome adversity and are thriving. I'm in the beginning stages of creating a television pilot that will help heal couples and families and I'm getting started on my next book. I'm truly always seeking opportunities to be able to share messages of hope, healing, self-worth, and joy.
Be sure to follow Shari on Facebook at: https://www.facebook.com/sharingwithshari
Latest posts by Lindsay Rae
(see all)
Published in Beauty, Featured Articles, Featured Women, Life