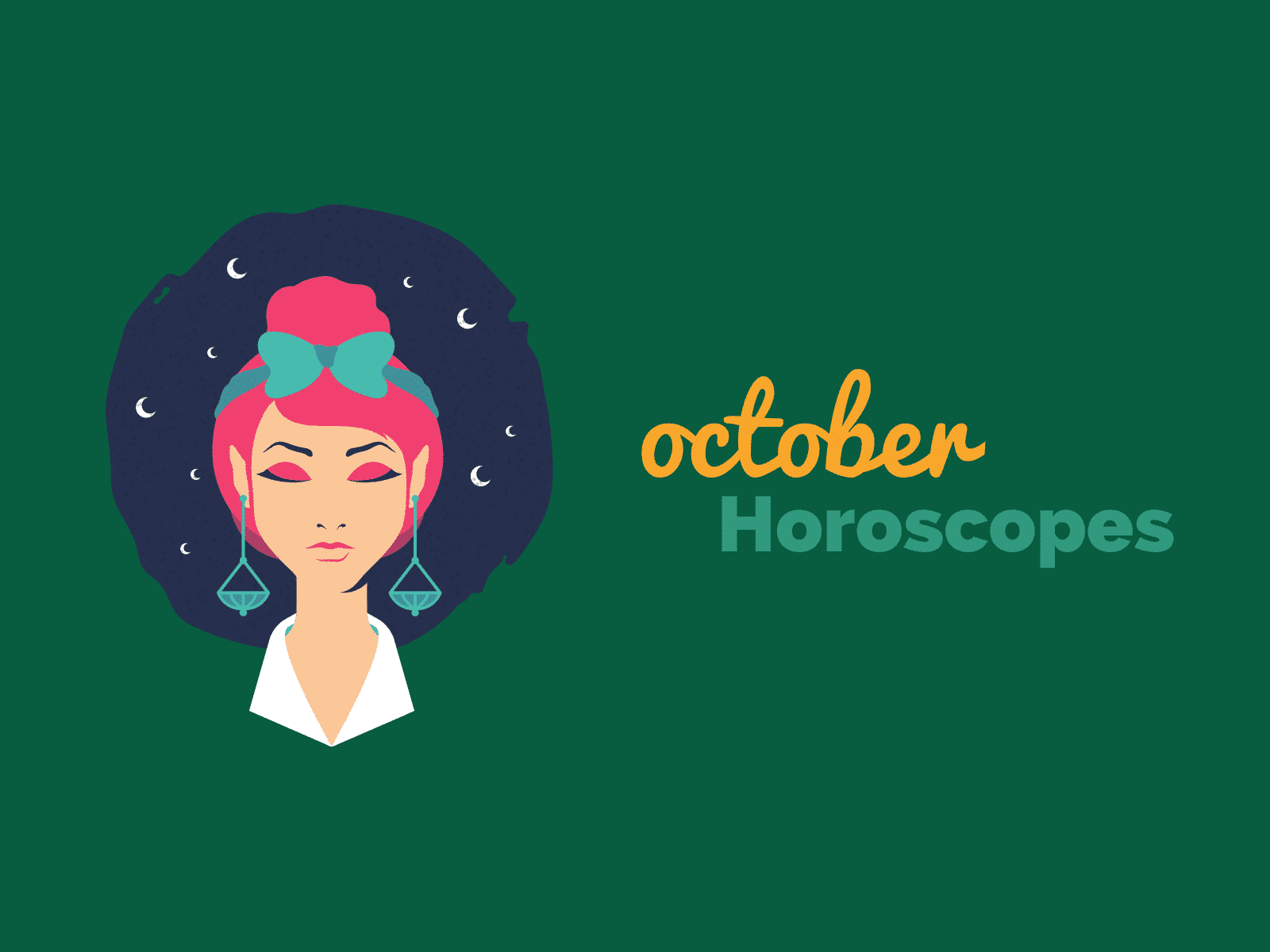 October horoscopes are here – and so is Fall! As we get closer to the end of the year, there are some pretty big opportunities on the horizon. This month gives us a chance to reset before the holidays roll around. Let's finish this year on a high-note (because let's face it, 2020 needs to be good for something).
If you don't fully relate to your horoscope and this could be because you don't know your Sun, Moon, and Rising Signs. Knowing all three is essential and can be a factor as to what your month will bring. Don't know what your Sun, Moon, and Rising signs are? Find out here.
October Horoscopes for 2020
Libra
October is going to be a great month for those who choose to make it one! Tackle any challenges you face and get them out of the way quickly and expeditiously. Let your positive energy shine through! Be dynamic and bold. The world is yours to enjoy, so take advantage of every minute.
On a personal note, maintain your psychological stability and stay focused on your family affairs. Keep everything running smoothly on the home front, and the rest of your activities will follow closely behind. Look to the future and enjoy the brightness.
Scorpio
Scorpios need to pay very close attention to their professional affairs during October. Find others who have the same goals and collaborate to make big things happen. Yes, there will be obstacles, but nothing you can't handle if you work together as a time.
In your personal life, the same concepts will hold true. Find other individuals with similar interests and strike up a few new friendships. Balance your interests with those of the people closest to you. Communication and teamwork will bring about great things. All you have to do is work together and focus on improving your ideas.
Sagittarius
The goals for both your personal and professional aspirations should be your primary focus right now. Challenges are all around you, but none are so great that you can't overcome each one with determination and concentration. Your problem-solving skills are on point, and you have the resources, so get to it!
Your confidence is high in October, so capitalize on it! Take advantage of new opportunities that come your way and always give each attempt 1000%. Give it everything you have, and you will be amazed at the results. Break down those boundaries!
Capricorn
For Capricorns, the month of October should be spent focusing on emotional happiness and psychological stability. Keep track of any health and marriage issues this month. They may end up having a more significant impact later in the year. Face any problems and resolve them so they can be kept to a minimum.
Balance your family and your marriage as well. Spending quality time with the family is great as long as you set aside quality time for significant other too. When you can effectively balance these factors, your life will start to go much smoother. Even your finances will benefit! Spending time with family and friends can be much less expensive than going out all the time.
Aquarius
The key focus for Aquarius during October should be on career goals and external objectives. Mars will be in control of your actions, so be careful to observe what's going on around you carefully before you react. Try to think before you make any rash decisions.
All of the domestic issues that may have been looming from the past few months will start to take their place in the background. While you still may want to resolve them, they are not pressing and will not slow down your progress unless you dwell on them.
Pisces
Pisces individuals should focus on their professional growth before anything else in October. Now is the time to take control of your financial future and grab hold of any opportunities that present themselves. Now is a good time to ask others for assistance. Delegate responsibilities and share the credit with those who deserve it.
October is the month for focusing on your family and interpersonal relationships. Maintain balance by working together and always looking for ways that the family can enjoy quality time as a whole. Your family's emotional well-being and emotional stability should also be your first concern.
Aries
The month of October will prove to be rather cheery and upbeat. Be smart when you socialize and be always be aware of your surroundings and the people you are with. Pay attention to the needs of others, and always try to help whenever you can. People may actually seek you out for your advice and problem-solving skills.
When it comes to the workplace, always try to work together as a team. Focus on the goals of the group instead of your own personal achievements. October is the month of mysterious happenings, so always be on the lookout for strange and unusual events. Take notes and even a few pictures if you can. They may inspire you later.
Taurus
If you are a Taurus, be prepared for a financial windfall. Your financial growth has the potential to turn into something amazing! Now is the time to learn what tactics work in your professional life and your personal life. If you expect to achieve the financial status you are looking for, your professional goals and aspirations must be on point this month.
When it comes to your personal life, domestic affairs and your emotions will start to sync, making life pleasurable and exciting. Sit back and enjoy life for a change.
Gemini
You may have many different obstacles in your way, Gemini, but you have the perseverance and determination to overcome them. Face your challenges and use your problem-solving skills to overcome each one. You got this!
October is the month for being fit and focusing on your finances. Exercise both your body and mind, while at the same time, give your finances a work out as well. Look at what is working and what is not, and then adjust your actions to meet the need.
Cancer
Conflict is everywhere and in almost every aspect of your life at the moment. Your job, home life, relationships, and even your emotional health just seem out of balance. Go with the flow and take care of any problems that arise. Deal with them quickly before they get out of hand.
Focus on your career and try to find new ways to manage your time. The conflicts and obstacles at work may seem to be neverending, but if you put your mind to it and concentrate on each one, you keep things under control. Don't give up! Every situation offers a valuable lesson.
Leo
October finds your career dramatically slowing in terms of growth and progress. Be polite at the office and face each obstacle with grace and tact. These are life lessons that will provide you with valuable lessons that will allow you to move forward. Be determined and move forward cautiously and carefully.
When it comes to your personal life, take things slow. Don't rush. Don't allow stress in the workplace to cause disturbances at home. Be mindful and remember that the two areas are separate entities.
Virgo
Be as independent as possible when trying to focus on your career. Be a problem-solver, and make sure others look to you for advice in the future. Show off those leadership qualities. You will have many challenges this month when it comes to your career. Divide and conquer each one so you can keep moving forward.
Your family and personal life are also on the right track, even though things may look a little out of balance. Focus on any issues, and make sure to give your family the time they need. Take time to enjoy the little things.
Are you excited for the month? We hope these October horoscopes give you a little extra motivation and positivity for the month ahead! Have a wonderful month, and be sure to keep checking back for your monthly horoscopes!
Latest posts by Emma Loggins Sprinkle
(see all)
Published in Featured Articles, For Fun, Life